How to Setup User Permissions in ChimpBridge Pro
ChimpBridge Pro supports assigning write and send permissions for your various WordPress user types. This way you can decide which specific users adding content to your site can send and publish your Mailchimp newsletters.
This feature is entirely optional. You can ignore, or delete, your permissions settings at any time. This will make ChimpBridge Pro revert back to the standard WordPress user controls for administrators, editors, authors, etc.
To get started, go to ChimpBridge Pro's Settings screen. You will see a list of every WordPress user role that is active on your site along with checkboxes corresponding to the capabilities in ChimpBridge Pro.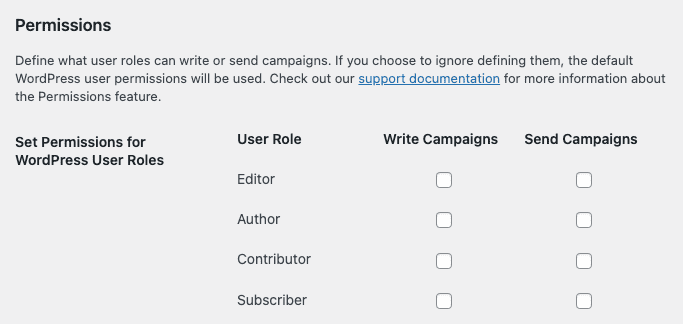 Pick which permissions you want each role to have by checking the corresponding box and then saving your settings. With no boxes checked for any role, ChimpBridge Pro will fall back to the default permissions built-in to WordPress for each role. So, if you aren't interested in using this feature, you can simply ignore it.
Please Note: In order for a user to Send Campaigns, they must also be able to Write Campaigns. This ensures that they have access to the proper interfaces inside WordPress.