Features
Create and Send Mailchimp Campaigns with WordPress
Write your Mailchimp newsletter in the same way you write blog posts and pages for your site. ChimpBridge gives you the ability to connect the WordPress admin directly to your Mailchimp account. Once connected, writing, editing, and even previewing your Mailchimp campaigns can all be done inside of WordPress.
ChimpBridge lets you skip using the complicated, native Mailchimp interface and get write to the important part: writing your newsletter campaigns. ChimpBridge is especially useful for agencies with less technically-inclined clients. Don't make them learn two interfaces: make WordPress their one-stop-shop for everything.
Main ChimpBridge Features
Connect with your Mailchimp account instantly
Write Mailchimp campaigns in the same way you write blog posts
Preview a Mailchimp campaign before sending
Send a campaign directly inside of WordPress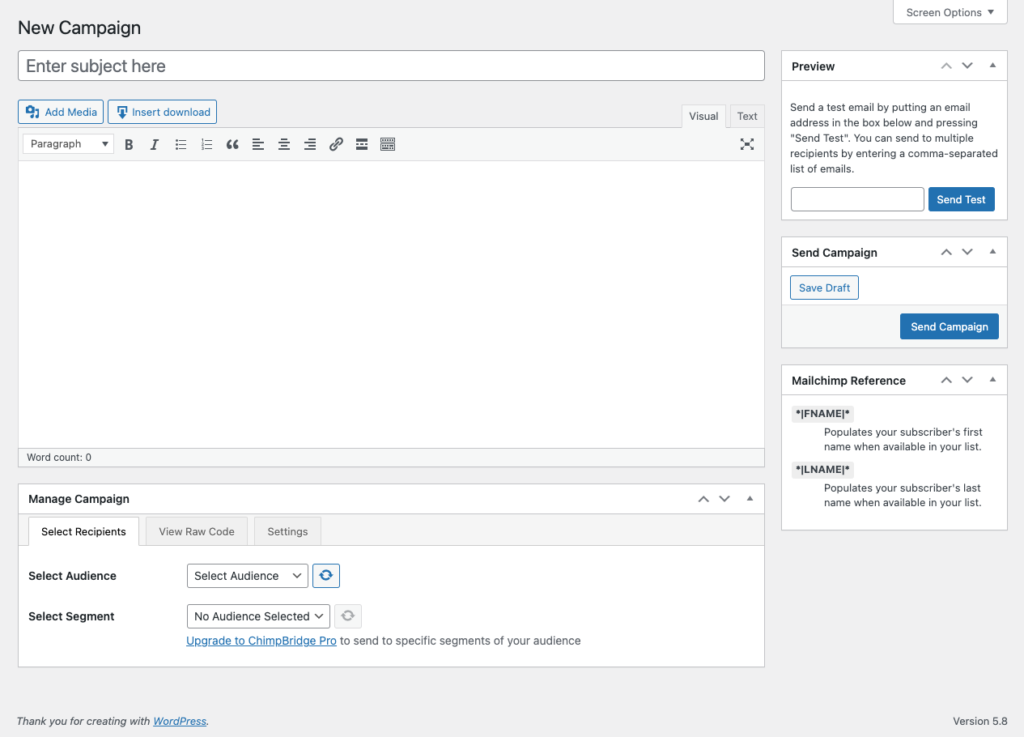 ---
Improve Collaboration on Mailchimp Newsletters
WordPress is a great tool for teams to come together to create content. ChimpBridge takes advantage of that by giving users the ability to work on their Mailchimp campaigns together. Multiple authors can work on the same newsletter content, over time, to ultimately create and send the perfect campaign to their Mailchimp audience.
---
Keep Your Mailchimp Account Safe
ChimpBridge allows you to restrict access to your Mailchimp account. Keep the content writers away from your various Mailchimp settings, account details, and more. For most situations, the people writing the newsletter content don't need access to the full suite of Mailchimp.com's features.
ChimpBridge allows the writers to focus on the writing and the administrators and developers to rest easy knowing the rest of Mailchimp's features are unreachable.
---
Get Started with ChimpBridge Today
ChimpBridge has a free version, which you can find on the WordPress.org plugin directory or, inside of your WordPress installation, by searching for "ChimpBridge" in the Plugins menu.
We also offer a premium version, ChimpBridge Pro, that will take your Mailchimp newsletter game to the next level. ChimpBridge Pro has all of the main features of the free version but also comes with:
Support for Mailchimp Audience Segments
Additional Email Footer Customization
You can learn more about ChimpBridge Pro on our site. Check out our page on what you get when you upgrade. There are zero risks in trying ChimpBridge Pro. You can get a full refund within 14 days, no questions asked.